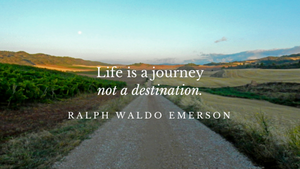 "Life is a journey and not a destination".  Ralph Waldo Emerson said that and despite his somewhat funny name, he made a good point.  Many times I'm like that kid in the back seat asking "ARE WE THERE YET?" when instead, I should be enjoying the ride! 
The "ride" is sometimes bumpy and sometimes you have to pull off and ask for directions but the view is spectacular if I just look around and take it in. 
This week is a great milestone for me.  We are doing a show that I've been working on my whole life.  When I was young (well, really I am still young, so "when I was youngER") I was exposed to country music.  My dad was the main person that was playing and singing country songs.  My siblings and I weren't very interested.  We had the Beach Boys and the Beatles on the radio.  But then something happened.  The pop/rock music became more and more confused (like "Sgt Pepper") and country music suddenly got more real (like "Lonesome Fugitive").  I found myself loving that country music that dad was playing. 
As a student of history, I wanted to know more about country music and dad was glad to oblige.  He introduced me to the musical heroes from his youth - The Carter Family and Jimmie Rodgers.  At first, I didn't get it.  The music sounded primitive and elementary.  But later I realized that was the point.  These pioneers captured these wild songs and started creating what would become the foundation for modern recorded music.  
And so, I've been working on this show "The History of Country Music" for some time now.  Saturday night, we're going to perform the show for you - but it will still be evolving.  I hope you can join me on Saturday as we walk down memory lane and celebrate the contributions that these great artists made to the soundtrack of our lives!
Click on the SHOWS tab for more info!